Hey guys!
Today we are going to discuss a "hot issue": the culottes pants!
As anyone knows or at least must have noticed, one of the super trend of the summer and even for next winter it's the culottes pants! It's everywhere! This item is super nice and very very cool...but how do they fit "normal people"?! If you are very tall and super skinny in that case, lucky you, you made "bingo" for this and for the next season buying at least a pair of them!
But if you are normally shaped?..how to wear this super hit?!?
The good news is that the culottes are extremely comfortable and are a key item for day and night! They can be unconventional, easygoing and classic chic at the same time. What matters is to keep in mind the proportions, volumes and materials. Balance is the key here. So...
1) Remember to use a
short top
. Since the culottes pants are usually wide and long to your ankle, a short top is the solution if you want to balance the figure
2) Use a top that has the
same color or pattern of the culottes
, if you're not very tall and you want to lengthen your shape. This trick will give the optical illusion of a longer shape!
3)
Do not use ballerinas

! Unless you're heading out of the disco and you jumped already on a cab with sore feet after a crazy night of hot dances.
4) Wear them instead with
high-heels
, perfect for your nights out and social evenings
5) You are allowed to use
sandals or shoes with a little bit of heel or platform
of you want to perform the casual chic style
6) If you are wearing a shirt remember to use the heels!
7) Other than that look at yourself into the mirror, keep in mind that you are beautiful doesn't matter who what where and that
self esteem and a smile are the most convincing beauty guns
!
Ready to go out and shoot down the hot chop?!?! ;)
Have a wonderful day!


Xoxo Elisir
Here Gigi Hadid with a perfect culottes outfit
Perfect culottes outfit for A/W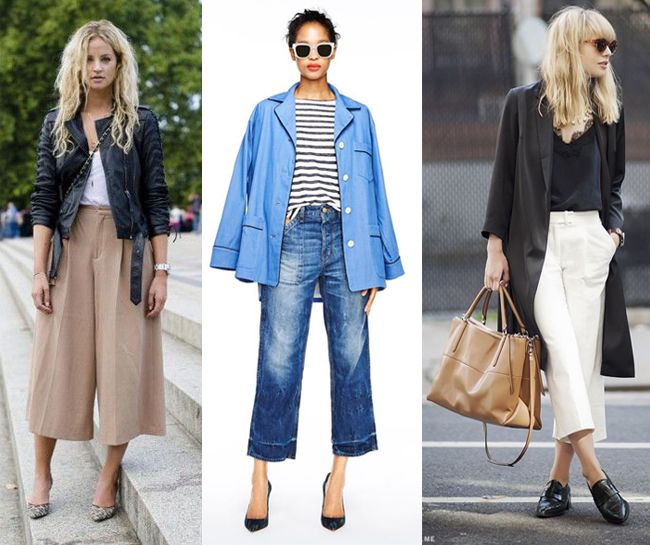 Three culottes outfits for A/W
Culottes outfit with perfect balance in volumes and materials